UOnline: From Online Course Support to a Leader in Online Degree Programs
UOnline: Providing Student Access to High-Quality Online Programs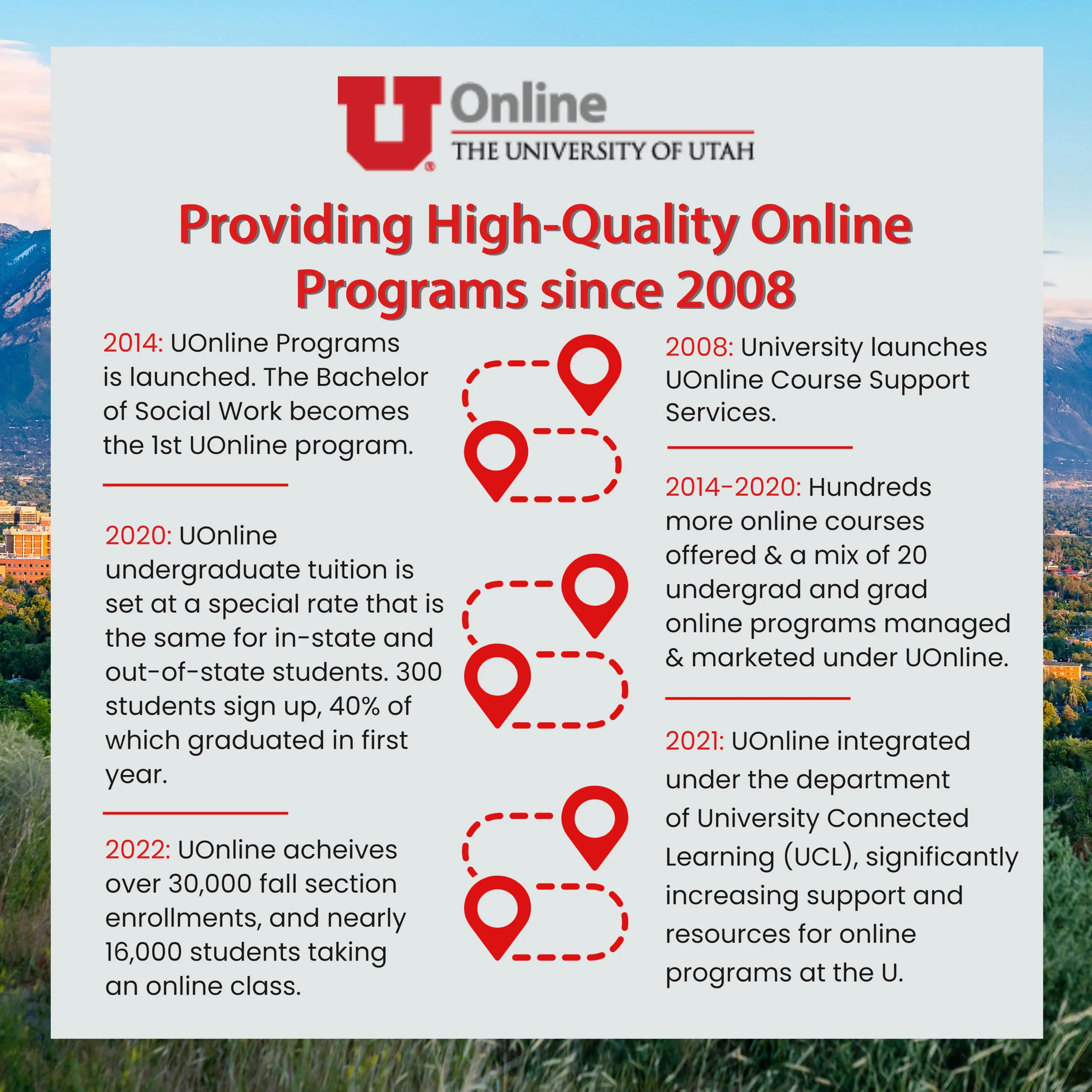 A brief history
In 2008, the University of Utah launched the first online course support services using the UOnline name. Led by Cory Stokes, Director of the Technology Assisted Curriculum Center (TACC), this initiative explored more flexible methods for offering classes to students. Around 200 online courses were created during those early years of experimentation.
In 2014, former University President Ruth Watkins tasked Cory Stokes, then Associate Dean in the Office of Undergraduate Studies, with launching complete UOnline programs and key online general education courses as part of the strategic vision to create a hybrid university with a mix of online and on-campus offerings to help students stay at the university and complete their degrees faster. Stokes oversaw the launch of the first UOnline programs and built out the foundational university infrastructure, partnerships, and services for online growth. That year, the Bachelor of Social Work became the first UOnline undergraduate program.
Between 2014 and 2020, the University of Utah created hundreds more online courses and offered a mix of 20 undergraduate and graduate online programs managed and marketed under the UOnline brand and supported by the Digital Learning services teams overseen by Cory Stokes. Starting in 2020, UOnline undergraduate tuition was set at a special rate that was the same for in-state and out-of-state students who officially declared to UOnline. That first year saw 300 students sign up as UOnline all-online students. Most were transferring or returning to the U to finish their degrees; forty percent of that group graduated within one year.
In 2021, Stokes and the Digital Learning team joined the University's new departmental unit, University Connected Learning (UCL), headed by Associate Vice President and Dean Deborah Keyek-Franssen. The integration of UOnline under UCL has significantly increased the level of support and resources available for online programs. As of 2022, UOnline now has a support staff consisting of a full-time program management, audio-visual, and instructional design teams that provide a seamless experience to departments looking to create online program offerings.
In the Fall 2022 semester, UOnline had 30,244 online section enrollments, 82,373 online credit hours earned, and 15,775 students taking an online class. And it is still growing.
Benefits to Students, Faculty & Campus
UOnline provides students with access to high-quality University of Utah online programs, top-notch faculty, and a wealth of support services that help them succeed in their academic pursuits. One of the key benefits of UOnline is the flexibility it offers. Students can complete their coursework asynchronously during the traditional academic semesters. This flexibility is particularly important for non-traditional students, who may not be able to attend on-campus classes due to their schedules.
UOnline courses are taught by the same renowned faculty who teach on campus, meaning that students receive the same high-quality education as their on-campus counterparts. UOnline students also have access to a wide range of support services, including an online orientation to help students get acclimated to online learning, academic advising, career services, and technical support, ensuring that they have the resources they need to succeed. UOnline provides students with a wide range of degree programs to choose from, including undergraduate and graduate programs in fields like nursing, social work, business, and education. These programs are designed to meet the needs of students at all stages of their academic careers, whether they are just starting out or looking to further their education with an advanced degree.
UOnline not only benefits students but also provides new opportunities for faculty to reach and engage with students. Faculty members who teach UOnline courses are able to explore new and innovative methods for delivering course material, using digital tools and resources to enhance the learning experience for students. UCL's instructional design experts work closely with faculty to create a robust and engaging online course, providing students with the best learning experience possible.
Currently, only UOnline undergraduate degrees and newly launched graduate degrees can use the PeopleSoft UOnline Programs designation. For partners across campus, this ensures accurate communication with departments and declared online students, provides the same level of University Connected Learning (UCL) service to all fully online programs, and streamlines business processes. Programs in the UOnline systems get to set different graduate tuition rates than main campus programs, and they get to set the same graduate tuition for residents and non-residents alike. Additionally, these programs are eligible for the UOnline 70/20/10 revenue split (department/central/UCL).
Departments working with UOnline will also have access to UCL's marketing and communication support, with increased marketing investment & communication and prospective student outreach services. They also benefit from improved data collection and identification of all-online students, which will lead to better communication with students and more accurate reporting.
In addition to providing students with a top-notch education, UOnline also benefits the state and region by expanding access to high-quality education. Online courses and degree programs allow the university to reach a wider audience of students, including those who may not be able to attend on-campus classes. This increased access to education helps promote greater social and economic mobility, as students can earn degrees and gain the skills needed to succeed in their careers.
UOnline aligns with the University of Utah's core values of student success and engagement, teaching excellence, diversity, community, and leadership. UCL is committed to providing the personalized support, engaged learning experiences, and excellent teaching and design needed to increase access to the university and help students start and complete their degrees.
About the Blog
Discussion channel for insightful chat about our events, news, and activities.
Categories
Tag Cloud